February 11, 2022
Innovative approaches and affordable solutions for building energy renovation
The market for deep renovation of buildings needs to be transformed in terms of technologies, processes and business models. The multiple benefits of improved energy efficiency are well known, but more action is needed to achieve the higher rates of renovation that would reduce energy use and decarbonize the building stock in order to meet long-term climate and energy EU targets. As illustrated in Figure 1, there is an urgent need to break the circle to stimulate a high renovation rate.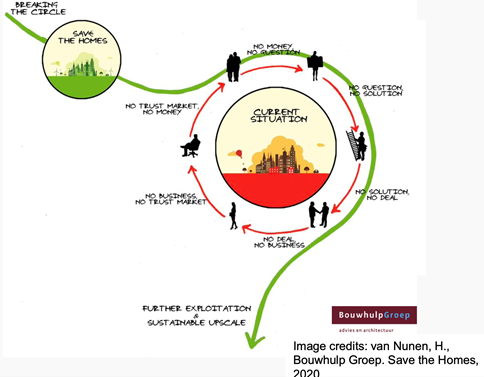 The workshop "Innovative approaches and affordable solutions" brought together a selection of H2020 EU-funded projects that are tackling the above challenge and promoting holistic consumer-centred solutions that involve the whole value chain, ensuring high levels of comfort and a high quality of the indoor environment.
The Turnkey Retrofit project with its partners EP and OPERENE aims to accelerate the energy renovation of buildings by offering an integrated and easy-to-use platform dealing with the entire renovation process. The main point of work and reflections of the project was to think about tools allowing to attract the owners towards the energy renovation: this led for instance to the creation of the Punch Diag: a very playful and fast analysis of the needs of renovation (Figure 2).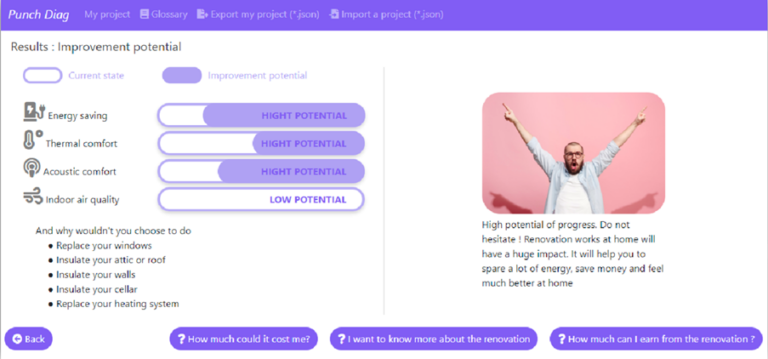 The TripleA-Reno project offers an open and end-user centered gamified platform for support decision. Both projects agreed that "the real issue is the trustworthiness of the online platform for homeowners. That is why working with local energy community is crucial" (Figure 3).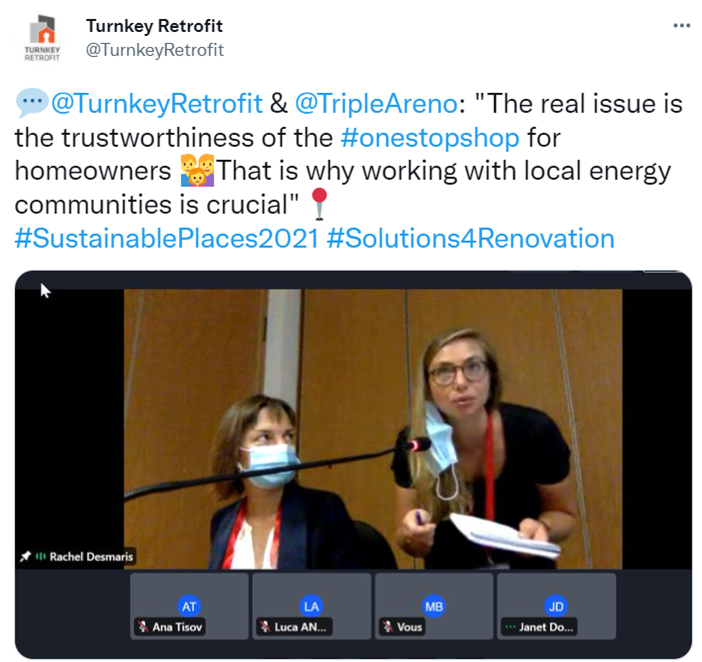 As for the Re-Modulees project, it bets on a hybrid approach with a digital platform for diagnosis and for pre-sizing the retrofitting options, combined with physical hubs and labs that gather local renovation expertise. The project intends to capitalize on past project outcomes following a modular approach.
The Save the Homes project chose to have the municipality as operator of its integrated renovation platform – the municipality being a trustworthy entity ensuring that the process is independent, transparent and of high quality for its citizens.
Indeed, according to the project Super Homes 2030 "homeowners want quality, independent decision-making support, solutions best selected best for the building and the budget and less paperwork".
Cost effective solutions for renovation are becoming more and more common, now it is a matter of continuing the efforts to develop innovative approaches capable of making owners aware and willing to renovate so they can take action.
Blogpost written by Rachel Desmaris, R2M.